Special offers when participating in life insurance packages of Dai-ichi Life Vietnam at Sacombank
04/11/2022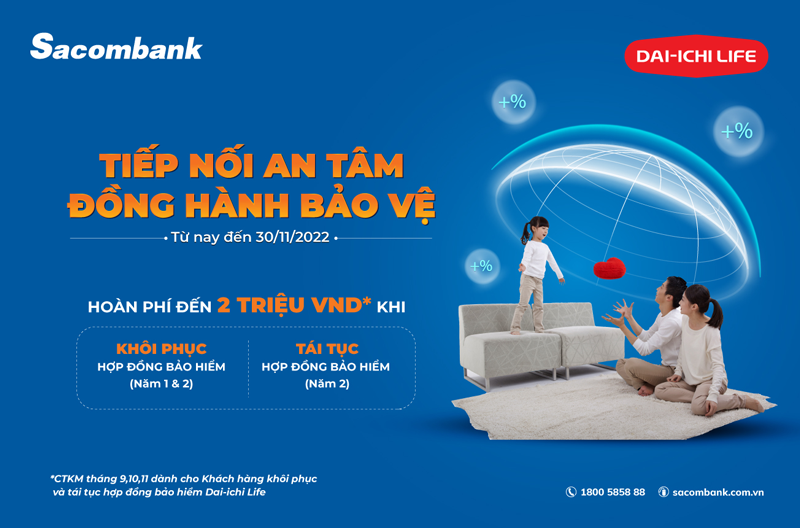 Accordingly, from now until the end of 30/11/2022, customers who reinstate expired insurance contract or pay the 2nd year fee will be refunded up to VND 2 million per contract. In addition, individual customers when joining a new insurance contract will receive a cashback up to 25% of the first-year fee, maximum of VND 100 million per customer. Businesses that are trading with Sacombank and associated partners are also given a preferential up to 30% of the first-year fee for employers and businesses, applied until 31/12/2022.
Joining insurance package at Sacombank, besides the diverse categories of product and benefits, customers also receive attractive incentives such as free conversion of 0% installment payment on insurance fee; preferential interest rates for deposits, loans and credit card annual fees; being supported by convenient payment solutions such as automatic payment entrustment service, etc. Customers also have opportunity to continuously enjoy other promotion programs deployed by Sacombank.
ADDITIONAL INFORMATION:
An tam Dau tu has high flexibility, not only supports customers to invest, increases assets effectively through a diversified portfolio with 5 unit-linked funds (Leading Fund, Active Finance Fund, Growth Fund, Balance Fund, Preserve Fund) with attractive return rates, but also protects investors against the risks of life up to 99 years old.
An tam Hanh phuc helps customers to protect family finances optimally up to 100 years old, accompanied by an additional relative with accident insurance benefits without extra fee with the policy term from 11 years to 100 years.
Dai gia An phuc is a solid financial fulcrum for each family joins the insurance, buyers will no longer worry about life risks with a high amount of insurance and low annual fee. Participation age from 0 - 60 years old, maximum contract termination at the age of 70.
Nang buoc tuong lai accompanies parents to wing the future of their children with appropriate financial plans and priority enrollment benefits at reputable domestic and international universities. The age of participation is from 0 to 60 years old with contract terms of 12 years, 15 years, 18 years and 21 years, depending on the customer's goals.
K-Care cancer insurance is the first online insurance product launched via Sacombank Pay with a participation fee of only VND 8,000 VND per day. Customers can join anytime, anywhere and get the on-time protection. With the protection period up to 25 years with a constant fee for the duration of participation, customers are protected from a variety of common cancers in Vietnam. In particular, the product also accumulates and refunds up to 50% of the total fee at maturity (applicable when no insurance benefits are incurred).