Sacombank Pay is the HCMC's 2023 typical product and service
13/10/2023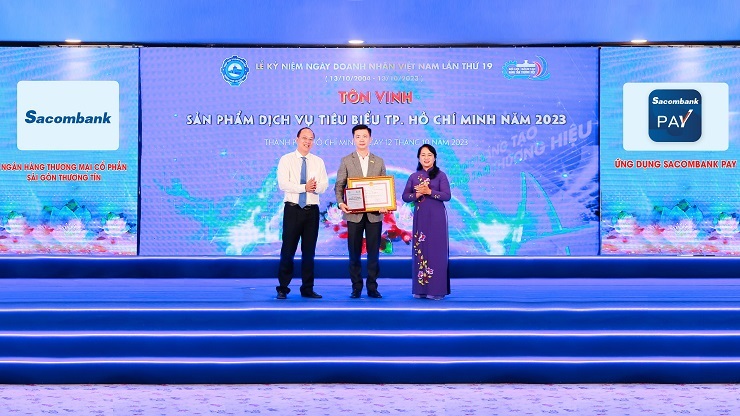 Representative of Sacombank, Mr. Nguyen Minh Tam - Deputy CEO (middle) received the award "HCMC's typical product and service of 2023" voted by the HCMC Business Association.

Sacombank Pay has garnered significant praise for its integration of modern technology, offering a comprehensive financial application that combines the convenient features of digital banking. Featuring a user-friendly interface and straightforward operations, it empowers users to proactively manage their finances optimally, enabling a wide array of transactions from money transfers, opening payment accounts, and obtaining payment cards or credit, to savings, consumer loans, bill payments, phone top-ups, and various shopping options (including airline tickets, train tickets, bus tickets, movie tickets, hotel reservations, food orders, and insurance). Additionally, users can easily scan QR codes for withdrawals, money transfers, or bill payments. Notably, Sacombank Pay allows customers to open customized accounts or payment cards in just 5 seconds and secure credit cards in as little as 5 minutes. It also facilitates money transfers without requiring the account number, thanks to innovative features like VietQR and NFC/Apple Pay contactless payments.
This application boasts PCI DSS security certification, a globally esteemed standard for security and confidentiality in the field of card issuance and acceptance. The bank's continuous ability to retain this certification for nine consecutive years underscores Sacombank's unwavering commitment to enhancing and fortifying its information technology infrastructure, ensuring strict adherence to data security principles, and ultimately enhancing the customer experience to the fullest.
In the past, Sacombank Pay was recognized among the Top 10 Sao Khue in 2021, a prestigious award celebrating the top 10 products and services in the Vietnamese software and information technology services industry. Most recently, Vietnam Economic Magazine - VnEconomy - Vietnam Economic Times acknowledged Sacombank as a "Strong Brand" in 2023 in the Pioneer - Innovation - Creativity category, commending the bank for its innovative and modern technology applications across all its activities, resulting in remarkable efficiency and contributing significantly to the Bank's sustainable growth.