Unlimited cashback for paying online ads with Sacombank Visa Card
17/08/2023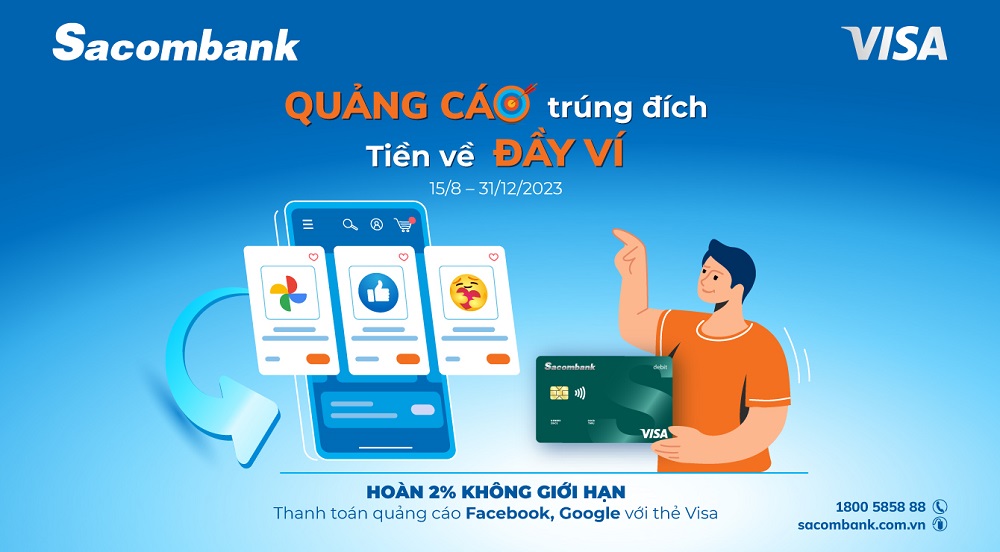 Under this promotion, every month during the program, both new and existing Sacombank Visa credit and debit cardholders (including virtual cards) making online payment transactions of at least VND 1 million on Facebook and Google have a chance to receive 2% cashback. There is no upper limit on the amount of cashback per customer. The program prioritizes refunding the earliest transactions until the budget allocated for each month is exhausted.
By the end of 2023, Sacombank will introduce several other incentives for new customers who choose to open and utilize a Sacombank Visa card. For instance, upon opening a new Sacombank Visa credit card, cardholders will enjoy benefits such as free issuance, a lifetime waiver of annual fees (based on transaction volume), and cashback of up to VND 500,000 for a total transaction value starting from VND 1 million.
For Sacombank Visa debit cardholders, a 2% refund on the transaction value will be provided every month when spending at least VND 1 million at supermarkets and convenience stores across the country.
Furthermore, Sacombank Visa cardholders can now utilize Apple Pay, adding cards and conducting contactless payment transactions. The first online payment of 200,000 VND or more will yield an immediate reward of 100,000 VND. This program is valid until 15/10/2023.
For more information, please contact Hotline 1800 5858 88 or visit website sacombank.com.vn. Register for online card opening at website https://www.sacombank.com.vn/ca-nhan/the/the-tin-dung.html.