Receive incentives the whole week with Sacombank Visa Card
19/09/2023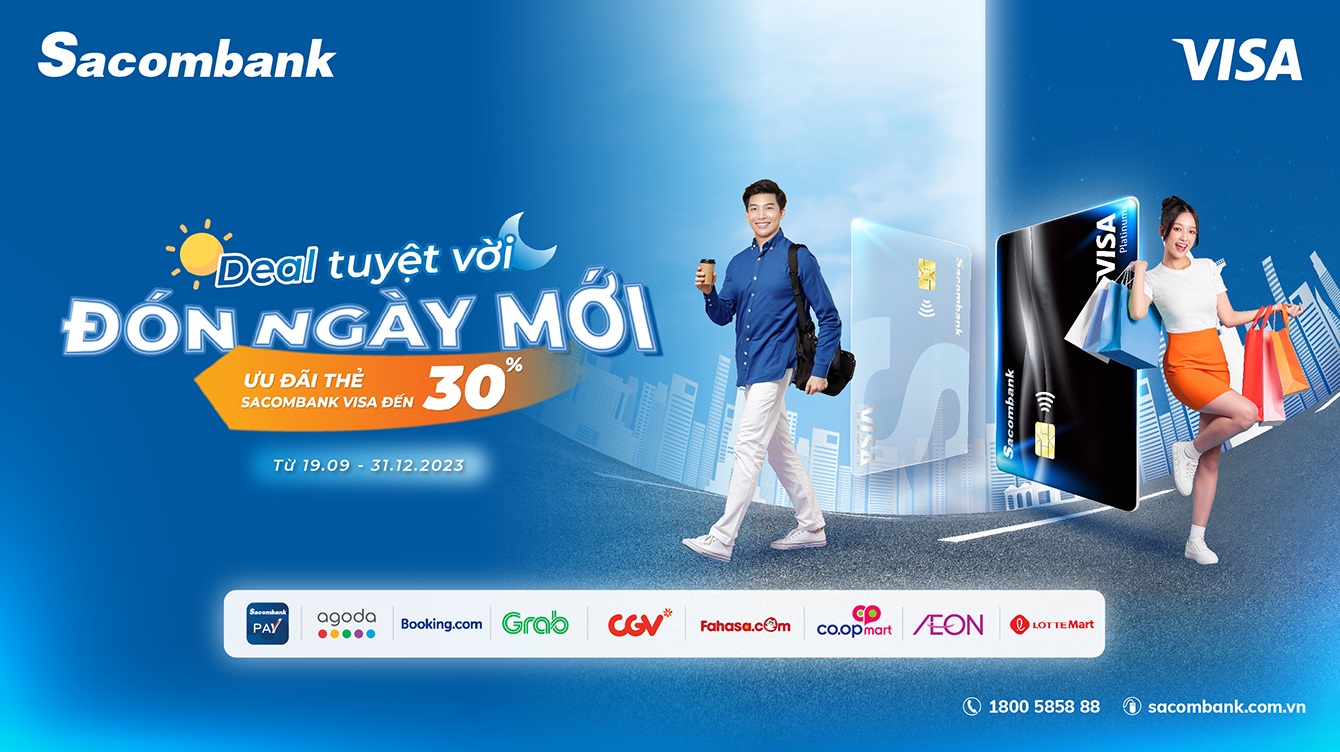 Specifically, on Mondays, Tuesdays, and Wednesdays, when customers pay electricity and water bills through Sacombank Pay for amounts exceeding VND 200,000, they will receive a VND 50,000 reward. Thursdays and Fridays are dedicated to travel and resort incentives. Customers book air tickets, hotel rooms, and tours on Agoda can enjoy a maximum discount of 30%. If they use Booking.com, they will receive a refund of up to 12% of the invoice value.
On the weekends, Sacombank Visa cardholders can take advantage of a range of hot deals for shopping, transportation, and entertainment. Specifically, when booking a vehicle through the Grab, customers will receive a VND 30,000 discount for GrabCar bills exceeding VND 80,000, and a VND 10,000 discount for GrabBike bills exceeding VND 30,000. Customers can also purchase a pair of 2D movie tickets at CGV for a preferential price of only VND 120,000. For those spending at Co.opMart, Co.opXtra, Finelife, Lotte Mart, Aeon Mall, or the Fahasa bookstore, with a minimum spend of VND 500,000, they will receive a refund of VND 50,000.

Furthermore, customers who open a new Sacombank Visa credit card will be exempted from issuance fees and receive an exemption from annual fees for life (depending on transaction volume). They will also receive a refund of up to VND 500,000 when their total transaction value exceeds VND 1 million. When using a Sacombank Visa international credit card to purchase the newly launched iPhone 15 series from retailers such as ShopDunk, FPT Shop, F.Studio, or on e-commerce sites like Shopee, Tiki, or Lazada, customers will receive a direct discount of up to VND 2 million.

Currently, Sacombank Visa cardholders can add their card to Apple Pay. When they make their first transaction of VND 200,000, they will receive an immediate gift of VND 100,000. This program is valid until 15/10/2023.

What could be more attractive than having a great experience every day of the week when it comes to spending and shopping? For more promotional information, please contact the Hotline at 1800 5858 88 or visit the website at sacombank.com.vn. To register and open a card online, visit the website at https://www.sacombank.com.vn.