"Welcome Spring with thousands of lucks" at Sacombank
03/01/2023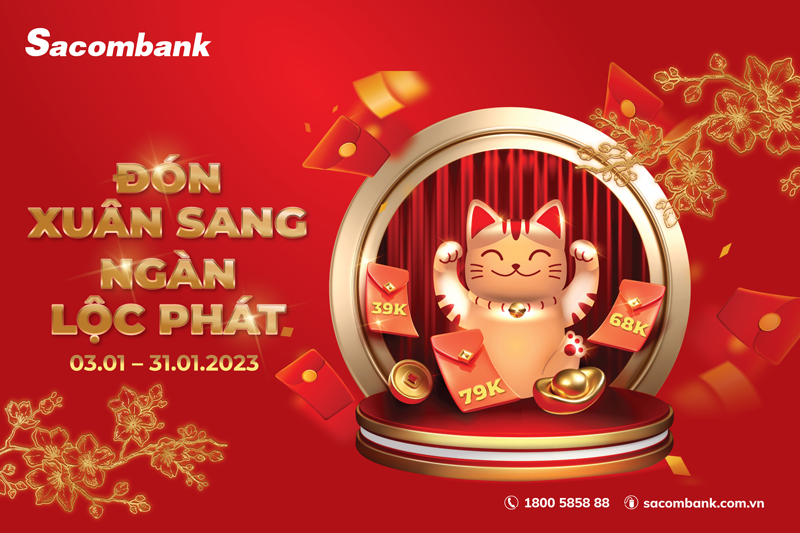 Particularly, personal customers who deposit savings at the counter from VND10 million in the period from 01/01/2023 to 19/01/2023 will be given a set of 2023 red envelopes. From 22/01/2023 – 31/01/2023, customers who deposit money into Tiet Kiem Phu Dong savings account online or at the counter payment will receive lucky money with a value from VND30,000 to VND100,000 corresponding to each amount of deposit. From 27/01/2023 to 31/012022, customers who deposit at the counter from VND80 million or online from VND60 million will receive lucky money from VND39,000 to VND999,000 corresponding to the deposit amount.
In addition, everyday from 22/01/2023 to 27/012023, the first 390 customers top up their phones from VND200,000 via Mobile Banking and Sacombank Pay will receive VND68,000 VND of lucky money; everyday from 30/01/2023 to 31/012023, at SBJ, the first 79 customers to pay by scanning QR code from VND3 million via Mobile Banking and Sacombank Pay will receive VND390,000 of lucky money.
For corporate customers, everyday from 27/01/2023 to 31/01/2023, the first 10 customers make transactions at the counter will receive VND79,000 lucky money.
For more information, please contact hotline 1800 5858 88 or visit website sacombank.com.vn.