Sacombank is the first Best SME Bank in Vietnam, by World Economic Magazine
23/08/2023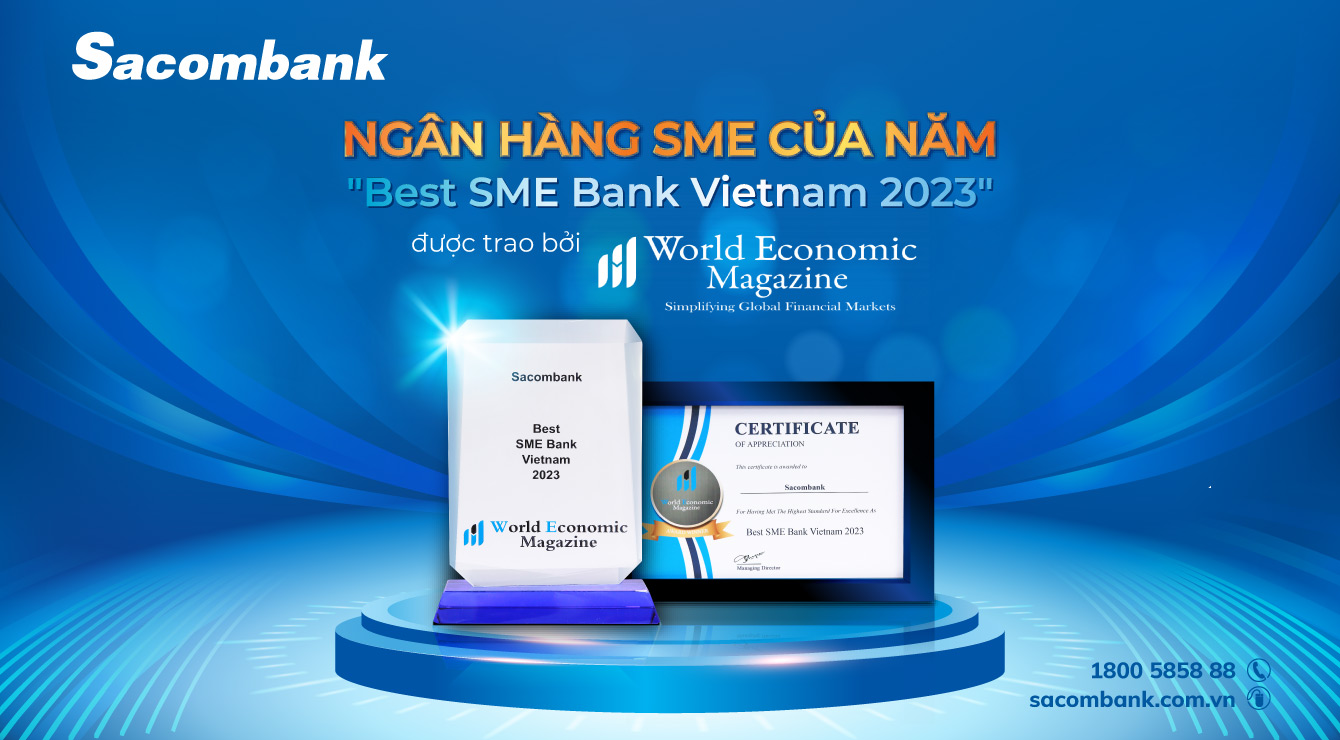 World Economic Magazine is a publication based in the United States that provides in-depth information, comprehensive research, and practical insights into various aspects of the global economy, including people, leadership, products, services, and communication, to a global audience.
The "SME Bank of the Year" award recognizes outstanding performance by businesses and leaders in an innovative and dynamic economy. Sacombank was selected based on its fulfillment of criteria related to consistent business operations and strategies for SME customers, encompassing factors such as growth and operational performance, risk management, customer service, technology, and innovation. Sacombank stands as the sole Vietnamese bank recognized by World Economic Magazine with this prestigious honor.

Furthermore, the Bank recently introduced a credit limit package of VND 11,000 billion, featuring interest rates starting as low as 6.2%. This initiative aims to support businesses seeking capital for production, business expansion, or vehicle purchases. Additionally, in 2023, Sacombank has allocated a total capital reserve of VND 8,000 billion at preferential interest rates, demonstrating its ongoing commitment to alleviating capital constraints for businesses.

Moreover, from now until the end of 2023, Sacombank is launching the program "Package deals for successful business" offering a complimentary business service ecosystem, including the free Business-Plus business account service package, international money transfers, payroll services, and a wide range of valuable gifts, such as Mercedes cars, iPad Pro devices, and cutting-edge online meeting equipment for its business customers.

In April, Sacombank's collection service with automatic control received high acclaim, earning recognition as an Excellent Solution in Vietnam's software and information technology industry, specifically in the field of Digital Banking, as part of the 20th-anniversary celebration of the Sao Khue awards. Remarkably, this marks the third consecutive year that Sacombank has received this prestigious award.

These awards underscore Sacombank's unwavering commitment to providing high-quality and diverse products and services, supporting both corporate customers in general and SME businesses in particular as they strive to achieve breakthroughs in the world of production and business activities.